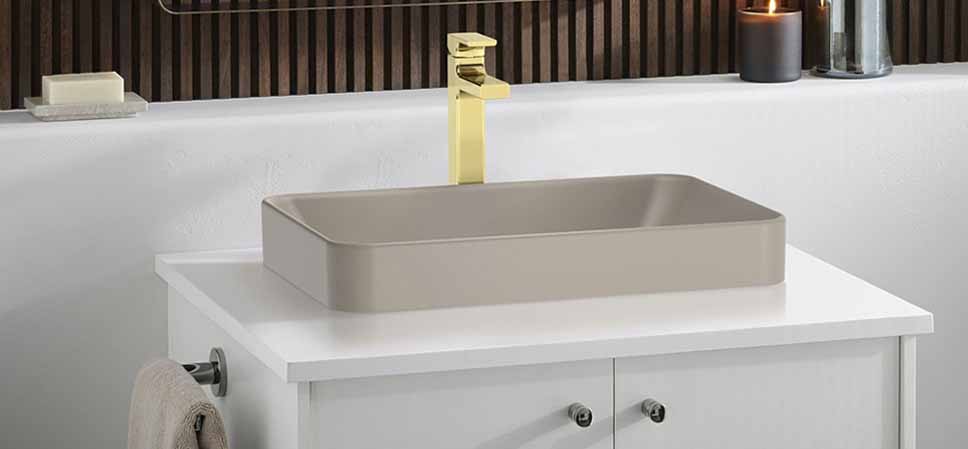 Experience the world of Kohler luxury as aerodynamic ambitions meets warm humanist details in Beam and Span. Style your bathroom with the European sophistication of Beam and live the true charm of expressive luxury with Span.
Beam
The sleek look and aerodynamic ambition finds its final functional interpretation. Sophisticated European styling in your bathroom at an approachable price.
FEATURES
Combining an aerodynamic profile with sleek contours, the Beam faucet collection is an eye-catching blend of function and fashion.
The versatile, modern design of Beam faucets complements a variety of decors. Coordinate with Beam showering components to create a cohesive look you'll fall in love with.
Superior dimensions provide easy and intuitive operation. Sustainable flow options available.
Life-50TM: Tested for 50 years of use, Kohler's unique Cartridges have near diamond hardness ceramic discs which grind debris and have a polishing effect for smooth & precise operation.
Life-BrightTM: Resists corrosion and wear two times longer than industry standard. Kohler chrome products have 3 layers of coating for added protection.
Premium Metal Construction
KOHLER finishes resist corrosion and tarnishing
For single-hole installation
Pre-attached flexible supply lines simplify installation
Span
True geometric designs with reliable performance, Kohler's Span Bathroom Collection works well in contemporary environments. Pure geometric approaches to straight-line toilets with warm and humanist details – Span Round. It is soft to touch and has no sharp edges or corners whilst maintaining its geometric origins. Allowing for flexibility in specifying due to pure forms that fit into any minimalist bathroom environment
FEATURES
Ergonomic Design suitable for Modern Bathrooms
Eco Flush, a cutting-edge Flushing technology that delivers best-in-class results @ 4L full Flush /2L half Flush
Fully glazed trapway and rim with consistent glaze thickness
SafeShield: Every Kohler PP toilet seat is infused with Nano silver ions (AG+) that keeps it 99.9% free from bacteria, including highly resistant strains E.coli
Quiet-Close™ seat lid closes slowly and quietly without slamming
The glaze contains Silver Ions along with special composite material which ensures that microbes cannot survive on the surface of the toilet.
Protection against widest variety of potential microorganisms
Removable seat for easy cleaning
Kohler products are now available across all major countries of East and West Africa including Ethiopia, Kenya, Tanzania, and Nigeria. Contact us at contact.africa@kohler.com or visit https://www.africa.kohler.com/contact-us.
Click here to configure the page header contribution component
© Kohler Co. All Rights Reserved